NOTE - This is not a Shiatsu kneading massager with roller balls, this is a vibration massager only. DON'T BUY, if you are looking for a shiatsu massager.
Memory Foam Padding:The full body massager mat is designed with soft and comfortable polyurethane memory foam as padding, the high-density memory foam provides you with superior comfort and great pressure relief. FLEXIBLE and FOLDABLE - the massage cushion with flexible and foldable design work fine on the bed, couch, recliner, chair and floor, and can be folded easily for transport and storage.
Vibration Massage:10 invigorating vibrating Massage motors provide soothing vibrating massage full body to help relieve stress, tension and eliminate fatigue.(the Massage mattress pad with 5 Massage Modes,4 selective massage zones,3 Intensities to achieve the best suited for your needs.)Note: This is not a Shiatsu kneading massager with rolling balls; this is a vibration massager only.
SOOTHING HEAT:The massage mat with optional heat for full-body, 6 heating pads target heat zones in the neck, upper and lower back lumbar, thighs, and legs, to soothe and loosen tense muscles and improve body circulation. (The heat can be turned on without massage, the neck heating and body heating are working separately.) Equipped with Overheat Protection Device remains the stable temperature. the heating pad with auto shut-off function is safe to use.
Soft Plush Fabric:Memory Foam Pillow comfort and soft. 100% ultra-plush, incomparably soft polyester that is creating a comfortable, great hand feeling surface for the user to lie on. This massager is a perfect Thanksgiving, Christmas gift for your wife, husband, Mom, Father, friend, etc loved ones.
| | |
| --- | --- |
| Snailax product can be returned to receive a full refund for any reason within 30days of purchasing date. | |
| Snailax product can be returned/replaced within 90 days if the products break down in the period of proper use. | |
| Snailax product is with 24 months warranty for quality-related issues. If the product breaks down within 24 months in the period of proper use, customers can enjoy the relevant warranty to get them replaced. |   |
 (Restricted to Snailax Online Sales from Official or Athorized Stores only)
Contact us
If you experience any problems, please contact us support@snailax.com at any time, our staffs will reply to you within 48 hours.
Attention!
NO CREDIT and NO WARRANTY will be given to any force majeure and man-made causes to a defective product, such as improper care, personal tear down and willful damage, etc.
 Go  Product Registration  page to register the 2-year free warranty.
Free Shipping On All Orders
Handling time: 1 business day
Customers who ship their orders within the US should expect to receive their orders within 3 to 7 business days upon payment verification depending on the volume of orders received.
If you experience delays in receiving your order, contact us immediately (support@snailax.com) and we will help to confirm the status of your order.
All your orders are sent via FedEx or USPS or UPS
Customer Services
If you need help or have questions about your product inquiry, order delivery, or have question about return and refund, or payment related, or other questions, please fill the form below or contact our customer service team at support@snailax.com
--------------------------------------------------------------------------------------------------------------
Technical Support
If you need help or have questions about your order, please fill the form below or contact our technical support team at customerservices@snailax.com
--------------------------------------------------------------------------------------------------------------
Marketing
Do you work for a Marketing or Advertising firm and believe that you can offer valuable services to Snailax? Please fill out the form below or send email to sales@snailax.com
Snailax Corp. (US)
2750 Carpenter Road, Suite 1 B,
Ann Arbor, MI, 48108
Tel:1.734.709.6982
Singapore Office
18 Cross Street, #02-101
JustCo S2061 at Cross Street Exchange,
Singapore 048423
Tel: +65-91134943
Payment & Security
Payment methods
Your payment information is processed securely. We do not store credit card details nor have access to your credit card information.
---
Security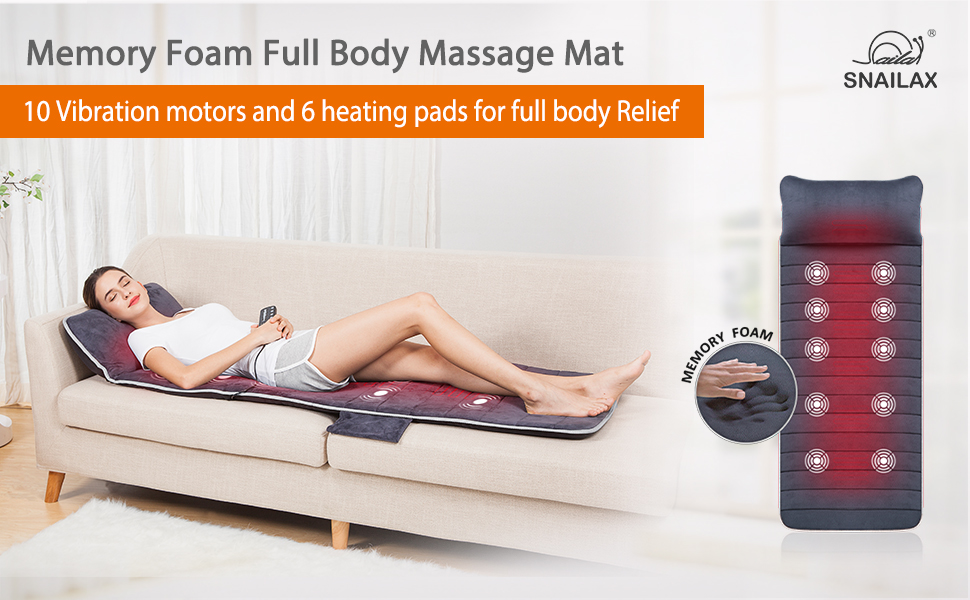 Snailax Memory Foam Full body Massage Mat with Heat
Make your entire body feel comfortable and relaxed with this Snailax Memory Foam Vibration Massage mat.
A full-body vibrating massage allows you to relax and soothe stiff muscles to soothe fatigue. Like having a Spa treatment after coming in from work or a hard day, and will make you fall asleep in comfort.
This massage mat combines 10 invigorating massage motors and 6 heating pads. There are five massage mode options targeted on combinations of different body areas covering neck, shoulder ,back, thighs and legs , and there are 3 vibration massage intensity options. Great choices for which areas you want to massage and how intense you want it to be. The optional heating function loosen tense muscle to melt away the stress of a long day. The smooth & super soft cozy covering and premium high density memory foam padding add to the high level of comfort this mat provides.
Is it comfortable and safe to sleep on? I believe it was suggested somewhere maybe in the reviews that you should not sleep on it.

Yes it is. An amazing product

Can you use this mat on a chair ?

Sure, it is flexible and foldable, it can be used on Chair, Couch, Recliner..

Are there indicator lights on the controller?

I gave this as a gift, but she says "yes" there are indicator lights on the remote... and she really likes it!

is there a timer so that the unit will shutoff completely after a certain amount of time (ie 30 mins)?

: Its automatic timer shuts off after about 25-30 minutes

What is the intensity like on the messager part ? Can you lower intensity on the messager ?

I love this mat because it tricker different part of the body, one at a time or all together. It also include heat. It help me slot sleeping.

what are the box dimension sizs?

25*8*16.5 inches

I would like to use this massage mat on a recliner. How thick is the pillow? If I sit up would the pillow be too thick?

The pillow is about 8-10 inches.

Umm, mine didnt come with the power supply or the wall plug, whatever you call it...where is it?

Very sorry to hear that. 
Please provide your order number to Support@snailax.com, will check and get back to you ASAP

I'd like to use this for my 3 year old. Is it phthalate free?

Sorry, we don't suggest any users who are under 12 years old to use any shiatsu or vibration product.

Is there a weight limit to this item?

There is no weight limit to this item. 


What is the wattage of the wall adapter?

Voltage:Input: AC 100-240V ~50/60Hz
Output: 12VDC 3000mA
Nominal Power: max. 36 Watt



What are the dimensions?

69 x 24  x 1.6 inches
Fold: 18.5 x 24 x 8.3 inches

What is the weight limit?

Range between: 200 -250lbs