Best Father's Day Gift: Electric Massagers - Get Pain Reilef
Looking for useful and sustainable gift as a Father's Day Gift? Discover the best gift ideas here on Snailax Electric Massagers. Snailax products can help relieve pain and make life a little easier. In this blog post, we will discuss the benefits of the Snailax electric massagers and provide some tips to help you choose the right one for your dad.
The benefits of using a electric massager.
There are many benefits to using a neck, foot, or back massager. It can not only help relax the muscles and reduce pain, but also can improve circulation and increase the range of motion. Moreover, massage is also a useful way to reduce stress and promote relaxation. Snailax is known to aim to design and provide high-quality health and personal care products embedded with the most innovative and relaxing features. Snailax line of products equipped with these functions to help people feel better and relieve muscle pain.
How to choose the right massager for you.
There are many different features to consider when choosing a massager. Some things to keep in mind include the intensity of the massage, the type of massage (such as Shiatsu or Swedish), and the device's size. It is also essential to consider whether you want a portable massager or one that must be plugged into an outlet.
Portable massagers are small and can be easily carried with you. Therefore, they are ideal for use at home or work. However, they may not be as powerful as other types of massagers.
Plug-in massagers are larger and more powerful than portable massagers. They must be plugged into an outlet, so they are not as convenient to use on the go. However, they can provide a more intense massage.
The Snailax line of products reaches various aspects, you can choose the most suitable massager that meets your needs and help you get relief from pain.
Snailax Shiatsu Kneading Back Massager can almost compared with a massage chair, also features spot massage which allows concentrating the kneading on one area for pin-point relaxation. The integrated strapping system secures it in place which can be used on a sofa, couch, recliner, office chair, or dining chair. Helping users to make the ultimately comfortable seat and enjoy a full shiatsu massage in any place after a tiring day.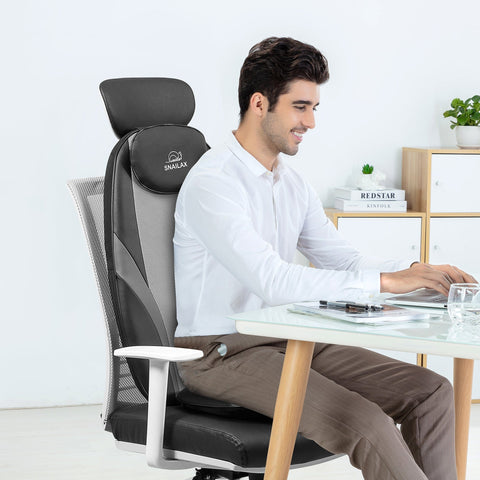 Snailax shiatsu neck & shoulder massager has an ergonomically compact design, allowing you to carry this massager pillow with you for ease of use. You can enjoy a relaxing massage at home, office, or in the car. It provides a deep tissue kneading massage for the full body part, helps to ease up the knots, tension, and muscle soreness. The optional infrared heat feature provides soothing warmth to improve body circulation and promote better relief of tired parts.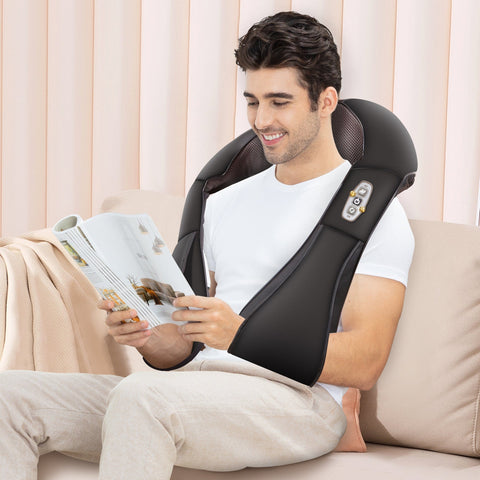 Snailax shiatsu kneading foot massager is ergonomically designed with flexible shiatsu massage nodes to deliver full massage from toe to heel, relieve feet pain and aches, and also can be used as a back massager to relieve back pains. The heat therapy feature helps improve blood flow, alleviate body fatigue, and promote better sleep.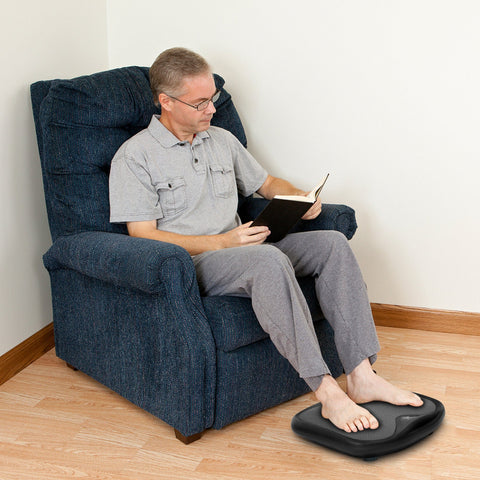 The Memory Foam Massage Mat is designed with soft and comfortable polyurethane memory foam as padding, the high-density memory foam provides superior comfort and great pressure relief. 10 invigorating vibrating Massage motors provide soothing vibrating massage full body to help relieve stress, tension, and eliminate fatigue. 6 heating pads target heat zones in the neck, upper and lower back lumbar, thighs, and legs, to soothe and loosen tense muscles and improve body circulation. Memory Foam Pillow comfort and soft. 100% ultra-plush, incomparably soft polyester that is creating a comfortable, great hand feeling surface for the user to lie on.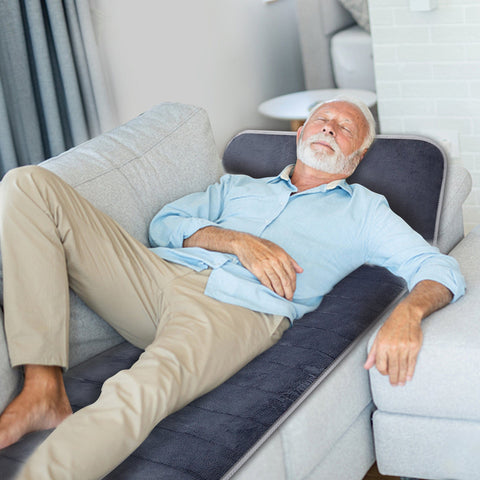 Hope this article could help you have a decision on what you are looking for. Gift dad a high-quality relaxation with Snailax 30% off discount now! Here is the Father's Day exclusive code [FatherDay30] for you and your loved one. Don't forget to use it at the checkout.
What we offer more:
Free Shipping [US] & Free Warranty: For any reason, if you're not satisfied with the product, you can return it within 30 days and get the full money back.